Shooting newborn photos in your home can be a great experience for clients, but it can also cause some anxiety. My style of shooting is very casual and natural, so there's no need to overhaul your entire home before having portraits done. I'd love to talk a bit about a few things to keep in mind before an in-home shoot to ease any stress and get your home photo-ready!
Lighting is one of the biggest things I take into consideration when I shoot a home since I use all natural light. Be prepared to open ALL of your curtains and blinds so we can take advantage of whatever light your home naturally gets. But don't stress over the perfect lighting, I'll always do my best to find a space that will work for the shoot. Although the main rooms I prefer to shoot in are the master bedroom, living room or nursery, I won't hesitate to take some shots in another room that has amazing light coming in.
Don't feel like you have to stress yourself out cleaning your house from top to bottom before an in-home shoot. Dust won't show in the background and neither will dirt. Plus, I know new parents are usually tired and the thought of having to clean the house can be too much. The focus of the images is going to be parents and baby, so it's not a problem if it has been a while since dusting has happened. The important thing is capturing these memories of your baby and your home exactly as it is right now.
That being said, a good place to spend your time prepping your home is clearing visible clutter from surfaces. On their blog, the professional designers at Havenly suggest using closed storage containers to hide knick knacks and power cords, which is a great idea. The last thing you want to notice in your photos is a tangle of phone chargers on your coffee table. Clearing unnecessary clutter will let the aesthetic of your home really shine through in photos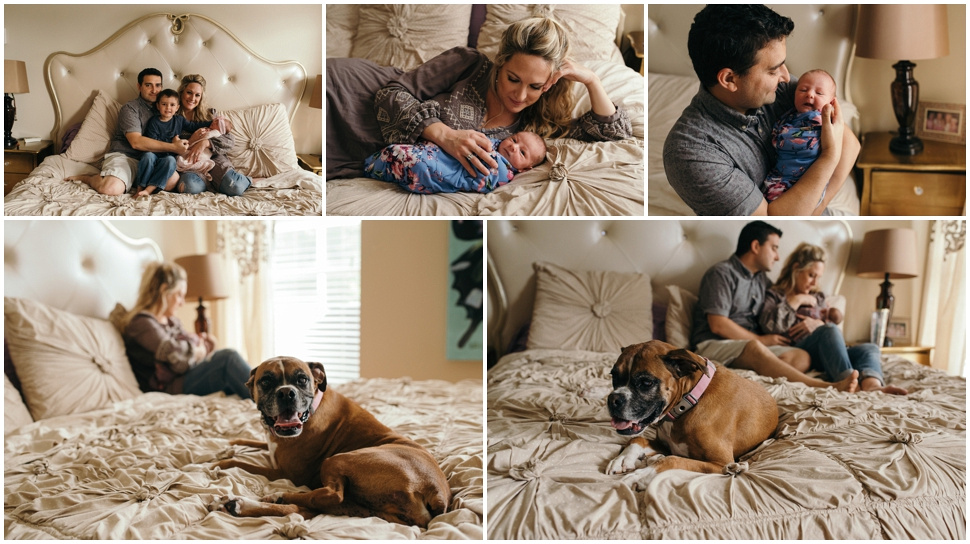 New parents have usually spent a lot of time preparing the nursery for their little one, making it an excellent location for photos. In the past I have incorporated shots of meaningful wall art or cute mobiles when shooting in a nursery. Baby furniture such as chairs, cribs and changing tables are usually my go-to's for featuring in photos so focus on those pieces when you're styling your room for photos. If needed, you can easily change the ambiance of a chair by draping a blanket over it, so keep in mind that we're always able to play around with the look of things.
As you can see, there's no reason to stress out over an upcoming in-home shoot. Shooting photos in your home is a great opportunity to preserve the details of their childhood home for your children to look back on. If you're ready to book your own in-home session don't hesitate to contact me!
patty